Back To Menu
Black & Bleu Burger
Cajun grilled onions, melted bleu cheese, lettuce, tomato, and garlic aioli
(Select One) Burger Temps:
Rare
Medium Rare
Medium
Medium Well
Well Done
Sub Veggie Burger
Sub Grilled Chicken
(Select) Add On:
Add a 1/3 lb Patty
+$3
Add Avocado
+$2
Add Nitrate-Free Bacon
+$1.50
(Select 1) Select Side:
House Salad (type dressing in request box)
Side Caesar Salad
+$1.50
Chips
Fries
+$1
Sweet Potato Fries
+$2
Have you tried this item? Pop it!
Help other diners know what to expect by sharing your experience.
10 people have popped this item
Photo Gallery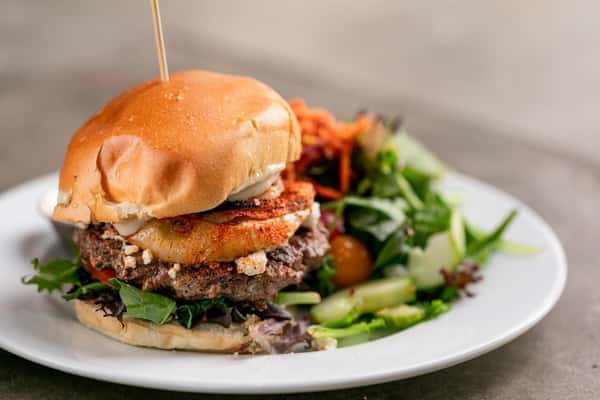 Back To Menu
Black & Bleu Burger
Cajun grilled onions, melted bleu cheese, lettuce, tomato, and garlic aioli
(Select One) Burger Temps:
Rare
Medium Rare
Medium
Medium Well
Well Done
Sub Veggie Burger
Sub Grilled Chicken
(Select) Add On:
Add a 1/3 lb Patty
+$3
Add Avocado
+$2
Add Nitrate-Free Bacon
+$1.50
(Select 1) Select Side:
House Salad (type dressing in request box)
Side Caesar Salad
+$1.50
Chips
Fries
+$1
Sweet Potato Fries
+$2
Back To Menu