Back To Menu
Vegan Kale
Avocado, dried cranberries, pepitas, rainbow carrots, and organic cabbage-kale blend
(Select 1) Select House Made Dressing:
Champagne Vinaigrette
Balsamic Vinaigrette
Bleu Cheese
Ranch
Caesar
+$1.50
Add/Extra (if dish states protein included you don't need to add more):
Hormone/Antibiotic Free Grilled Chicken
+$4
La Reina Lager Marinated Tri Tip
+$4.50
Fish of the day (Carpinteria and Ventura locations only)
+$5
Have you tried this item? Pop it!
Help other diners know what to expect by sharing your experience.
8 people have popped this item
Photo Gallery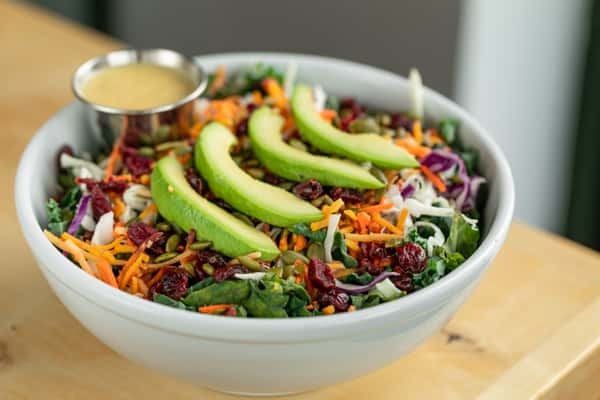 Back To Menu
Vegan Kale
Avocado, dried cranberries, pepitas, rainbow carrots, and organic cabbage-kale blend
(Select 1) Select House Made Dressing:
Champagne Vinaigrette
Balsamic Vinaigrette
Bleu Cheese
Ranch
Caesar
+$1.50
Add/Extra (if dish states protein included you don't need to add more):
Hormone/Antibiotic Free Grilled Chicken
+$4
La Reina Lager Marinated Tri Tip
+$4.50
Fish of the day (Carpinteria and Ventura locations only)
+$5
Back To Menu