Back To Menu
Southern Fried Chicken
Tender Southern style breaded chicken, homemade cornbread, dried cranberries, pepitas, and organic spring mix
(Select 1) Select House Made Dressing:
Champagne Vinaigrette
Balsamic Vinaigrette
Bleu Cheese
Ranch
Garlic Vinaigrette
Ginger Sesame Vinaigrette
Caesar
Add/Extra (if dish states protein included you don't need to add more):
Hormone/Antibiotic Free Grilled Chicken
+$3
La Reina lager marinated Tri Tip
+$4
Fresh, Sustainable fish of the day
+$5
Have you tried this item? Pop it!
Help other diners know what to expect by sharing your experience.
3 people have popped this item
Photo Gallery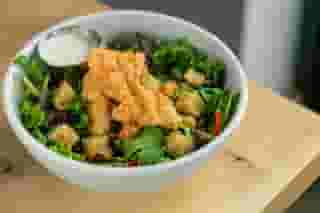 Back To Menu
Southern Fried Chicken
Tender Southern style breaded chicken, homemade cornbread, dried cranberries, pepitas, and organic spring mix
(Select 1) Select House Made Dressing:
Champagne Vinaigrette
Balsamic Vinaigrette
Bleu Cheese
Ranch
Garlic Vinaigrette
Ginger Sesame Vinaigrette
Caesar
Add/Extra (if dish states protein included you don't need to add more):
Hormone/Antibiotic Free Grilled Chicken
+$3
La Reina lager marinated Tri Tip
+$4
Fresh, Sustainable fish of the day
+$5
  Back To Menu