Back To Menu
Chicken Pesto Sandwich
Free Range chicken, basil pesto, mozzarella, organic lettuce, tomato, avocado on ciabatta bread
(Select 1) Select Side:
House Salad (type dressing in request box)
Side Caesar Salad
+$1.50
Chips
Fries
+$1
Sweet Potato Fries
+$2
(Select) Sandwich Add Ons:
Avocado
+$2
Nitrate-Free Bacon
+$1.50
Add Cheddar Cheese
+$1
Add Swiss Cheese
+$1
Add Pepper Jack Cheese
+$1
Have you tried this item? Pop it!
Help other diners know what to expect by sharing your experience.
22 people have popped this item
Photo Gallery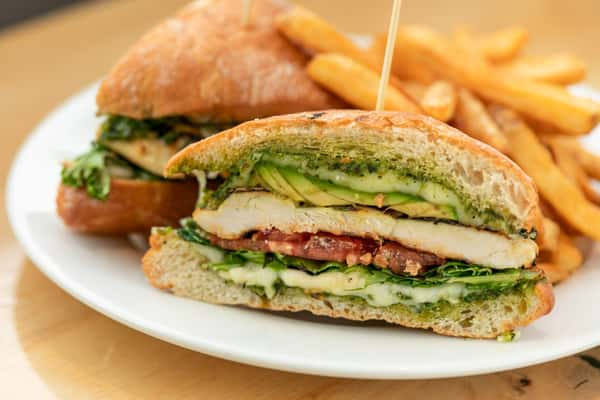 Back To Menu
Chicken Pesto Sandwich
Free Range chicken, basil pesto, mozzarella, organic lettuce, tomato, avocado on ciabatta bread
(Select 1) Select Side:
House Salad (type dressing in request box)
Side Caesar Salad
+$1.50
Chips
Fries
+$1
Sweet Potato Fries
+$2
(Select) Sandwich Add Ons:
Avocado
+$2
Nitrate-Free Bacon
+$1.50
Add Cheddar Cheese
+$1
Add Swiss Cheese
+$1
Add Pepper Jack Cheese
+$1
Back To Menu